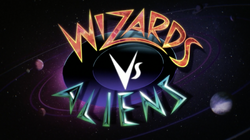 Wizards vs Aliens è un programma televisivo di fantascienza. È prodotto da BBC Wales e FremantleMedia per CBBC e co-crato da Russell T Davies e Phil Ford.
Questa serie di avventura che vede la collisione di due mondi molto diversi
Edit
La prima serie si concentra su Tom Clarke, un ragazzo di 16 anni, e il suo migliore amico scienziato Benny Sherwood si imbattono in gara contro una razza aliena chiamata Nekross che hanno invaso la Terra per prendere tutta la magia
La seconda serie continua la battaglia tra i due popoli si concentra maggiormente su creatura magiche e il piano di Jathro e Kooth per distruggere i Nekros reali.
Nella terza serie Benny parte quando riceve l'opportunità di lavorare con MIT in America. I Nekross tornano alla galassia terrestre, con Varg, ora reggente dell'impero, che intende vendicarsi su Tom per aver trasformato sua sorella Lexi in un essere umano (che ha fatto per salvare la sua vita). Egli è assistito dalla moglie Lady Lyzera, che è segretamente una persona che vuole catturare la magia della Terra per se e inpadronirsi del mondo.
Wizards vs Aliens was originally co-created by Russell T Davies and Phil Ford to fill in the 5:00 schedule slot previously held by Davies's TV series, The Sarah Jane Adventures after its main actress, Elisabeth Sladen died. Although there were ideas for a replacement show before Sladen died, it was only during a meal when Ford and Davies came up with a unique idea, Aliens vs Wizards.
Con la messa a fuoco originale della serie è una combinazione di alieni e di magia, sarebbe stato giusto che il programma sia chiamato Aliens vs Wizards, ma, come Davies ha rivelato, le questioni legali hanno portato alla rappresentazione renamed Wizards vs Aliens.
Production
Edit
The development process of Wizards vs Aliens lasted six months. Davies described the script of the first episode as the "fifteenth draft" due to the vast number of ideas for the series. Davies revealed that, at one point, Tom had a sister but the idea was scrapped after looking towards future episodes and thinking whether she woatould work. Davies saw the three spells rule as a "marvelous part of the plot" and something that kids "r.ealotivi finanziari, ma potrebbe tornare a combatterli un altro giorno ad un certo punto in f
| | |
| --- | --- |
| | Following the format held by its sister program, The Sarah Jane Adventures, each story is made up of two parts, with part one airing on a Monday and part two airing on a Tuesday. |
Ad blocker interference detected!
Wikia is a free-to-use site that makes money from advertising. We have a modified experience for viewers using ad blockers

Wikia is not accessible if you've made further modifications. Remove the custom ad blocker rule(s) and the page will load as expected.